"IF YOUR BUSINESS IS NOT ON THE INTERNET THEN YOUR BUSINESS WILL BE OUT OF BUSINESS." Web development trends are shifting as new technology makes the internet quicker, safer, and overall a better place. Similarly, the company plan you were pursuing in 2018 has suddenly evolved. And, as a nice endeavour on your part, you may have changed the company environment in accordance with current trends. Furthermore, everyone would agree that the way your company's website previously functioned need an improvement.
1. Accelerated Mobile Pages (AMP):-
Mobile devices are used by the vast majority of users (more than 95 percent) who visit your websites.
Because the majority of your audience uses smartphones, having your webpages mobile-friendly will help them load faster. As Google favours pages that load quickly, this will result in better SERPs.
AMP was initially released in 2015, and since then, it has become one of the most popular web development trends.
With the use of a cache maintained in a Content Delivery Network, Accelerated Mobile Pages (AMP) uses HTML copies of a website to present them to mobile devices, stripping off JavaScript, HTML, and CSS (CDN).
In Discovery, Google is supporting AMP pages, as well as news headlines that are displayed in Chrome and Google App. A website's AMP pages will, without a doubt, achieve a higher search engine ranking since they load quickly.
2. Progressive Webpages Apps (PWA):-
The Progressive Web Page App (PWA) feature allows a website to behave and feel like a mobile app. It gives you:
1. The ability to add a home screen icon
2. Responsiveness
3. Offline browsing ability
4. It is risk-free to use
5. It is less expensive than Android/iOS applications.
6. Last but not least, highly linkable and gives an application-like Web experience.
With such qualities, PWA climbed to the #2 rank on the list of web development trends for 2022. These capabilities provide a web app interface to your website, resulting in a high-quality user experience that has piqued the interest of developers all around the world.
3. AI & Bots :-
Artificial Intelligence and its benefits are frequently discussed while discussing 2022 or beyond. Businesses have already begun to employ Artificial Intelligence, such as chatbots and other tools, demonstrating the continued online development trend.
Companies seek cost-effective solutions that are available 24 hours a day, seven days a week and can assist consumers with any issue about their services. Many organisations claim that chatbots powered by artificial intelligence and machine learning are a beneficial long-term investment.
Processing a significant quantity of consumer data to customise the user experience, on the other hand, is simple with the aid of A.I. With ADI (Artificial Design Intelligence) technology and voice help, this technology is transforming online technologies in areas such as tourism, healthcare, Ecommerce, and more.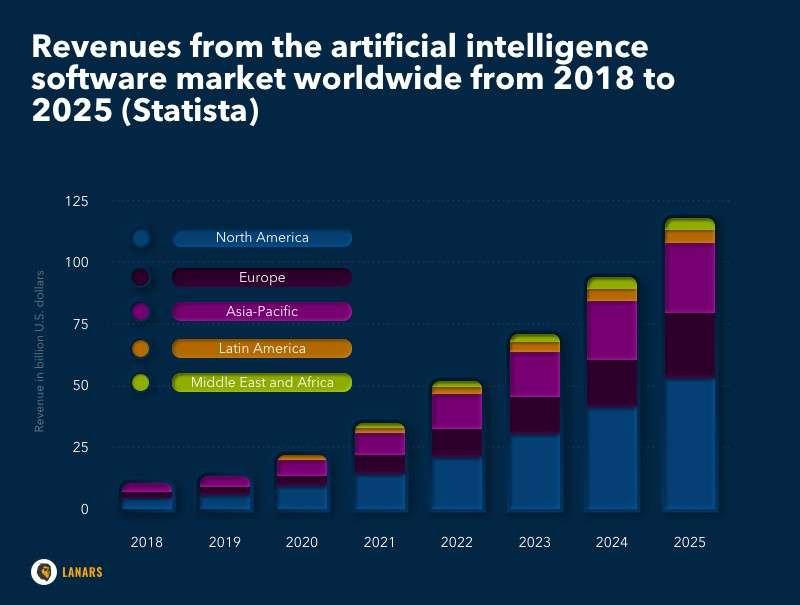 4. Dark Mode :-
Dark Mode will be a popular feature in smartphone apps in 2020. In 2022 and beyond, it will be a standard feature on websites. The dark hue has a high contrast ratio compared to other colours, making the User Interface more appealing.
This function is reliable since it minimises unnecessary eye strain. Additionally, increasing the amount of black pixels reduces device energy consumption and makes it easier to perceive light content by improving visibility.
Furthermore, it adds a fashionable touch to the entire website and ensures the greatest possible user experience. As a result, dark mode is ranked #4 on GyanMatrix's list of web development trends for 2022.
5. Mobile Friendly Websites (Responsive):
People trust Google, and the company is always improving its algorithm to make it safer, more secure, and faster in order to offer the best possible results. Because mobile-friendliness is considered one of the most important SEO characteristics, it will continue to be a popular web building trend in 2022 and beyond.
Additionally, increasing the amount of black pixels reduces device energy consumption and makes it easier to perceive light content by improving visibility. So it becomes necessary to have a responsive design that changes dynamically according to the screen size of devices.
6. Cyber Security :
No matter how strong a firewall security framework is in place, cyber attacks are increasing every day. Every day, there are several data breaches.
As a result of these dangers, businesses are increasing their security spending.
The IT sector is working overtime to combat and protect internet resources. However, this is not something that can be accomplished quickly, demonstrating the need of implementing and maintaining appropriate cybersecurity.
7. Vector & 3d Graphics :
Depending on the segment, any website must have a nice design. Vector graphics are essential for keeping visitors engaged for longer periods of time. Without a doubt, it lowers the bounce rate of the website. It also gives visitors more room to contemplate and chose what best matches their requirements.
The website's users trust the website because of its clear and stunning 3D graphical layout. They may also get more out of vector graphics if they choose the correct web development firm for their organisation.
8. Voice Search :
The voice search feature-rich system is becoming more popular in web development. We use Google Assistant, Alexa, and Cortana through voice commands in 2022, and they can easily comprehend us. It's become critical that we optimise our website for voice searches.
Also, rather of typing extensive paragraphs, many prefer to deliver orders by voice. Furthermore, the majority of Internet of Things (IoT) devices use voice commands as their primary input, indicating the enormous potential that websites provide.
Because speech recognition is a key aspect of user behavioural analytics, making websites optimised for voice search will offer up additional commercial options.
The most notable example of technology that was introduced more than a decade ago is voice search. People in 2022 would desire to spend less time entering commands since machines would be able to comprehend them easily. As a result, most businesses are scrambling to figure out how to make their physical and digital products more voice search and command friendly. By the end of 2022, voice assistants are expected to be in 55% of all households worldwide.
Voice-activated self-standing gadgets and voice optimization for normal web pages and applications are the newest developments in web development. Voice search optimization, which is aided by AI, is helpful to both end-users and owners. For starters, it saves time and allows the user to place more orders (online shopping and services). Second, technology allows you to multitask. Third, it increases user loyalty by assisting them in coping with routine. Finally, voice use is a useful tool for analysing user behaviour.
9. Single page application :
As the Globe is moving towards fully functional 5G internet connectivity. Nobody wants to visit a website that takes a long time to load and opens a new link with each click. Instead, web developers suggest SPA because it is a quicker and more efficient way to load JSON-based information in a browser.
Although, with the introduction of JavaScript frameworks, SPA became more common. Gmail, Google Drive, Google Maps, and other Single Page Applications are just a few examples.

Single page application (or SPA) is a new website trend that allows us to avoid seamless contact with the server, improve page performance, and ensure data security.
Because JavaScript frameworks are becoming more popular, SPAs are becoming more popular. Intercepting specific browser events and requesting JSON makes it appear as if you're dealing with a web application. That includes Google pages like Gmail, Google Drive, and Google Maps, as well as social networking sites like Facebook. According to current web trends, the majority of functioning websites will be built as SPAs in the future.
10. Motion UI :
One of the top web development trends for 2022 is motion UI. It's a website design strategy that's minimalist and lively. It gives the user a quality appearance and experience. To animate designs, web developers do not need to use jQuery or JavaScript. Using JavaScript and jQuery to create bespoke designs is a time-consuming procedure. Furthermore, it uses a lot of resources on the hosting server, which is not a smart decision. As a result, including Motion UI into your website will improve user involvement and happiness.
Finally, I believe that in 2022 and beyond, all of the aforementioned web development trends will grow. You may have your web development business use these technologies as part of a larger overhaul of your online infrastructure.

Innovation In the digital age, web design is yet another trend branch. Year every year, entrepreneurs place a greater emphasis on user experience and devote fewer resources on aesthetics. Beautifully designed websites and applications, on the other hand, have a better chance of being recognised by potential consumers and going viral. In this context, visual design becomes a subject of marketing strategy rather than engineering.
The use of digital items is made more easy and transparent using Motion UI. Custom animation integration and CSS transitions are used, which are driven by stand-alone libraries with a variety of animated element classes. With their assistance, developers spend less time developing digital products and product owners save money.
SASS libraries are versatile, easy to use with CSS, HTML, and JavaScript, and extremely responsive, therefore the motion future of web design appears to be still tempting in 2022. Motion UI is also a proven method of capturing consumers' attention, making it valuable for those developing solutions for crowded marketplaces.
Read also: What Do Website Design and Development Speak About Your Business?