Introduction
The Sports betting App was introduced back in the 17th century. At that time it was not popular enough for people to recognize it. But today, everyone is well aware of the introduction of Betting Apps in the market.
It is a popular source of entertainment in today's time all kinds of sports are covered in this application, which includes cricket, football, soccer, basketball, and many more. Engagement of people is increasing day by day in this type of application.
The betting industry in the global market has seen a severe rise in the demand for such applications. The research also forecasts that the industry is expected to grow rapidly. Users and demand for this app are increasing by 9.77% (
We can see a great rise in the demand for betting apps and its impact on the market as well. So, it can be a great opportunity for developers to make a change in the same.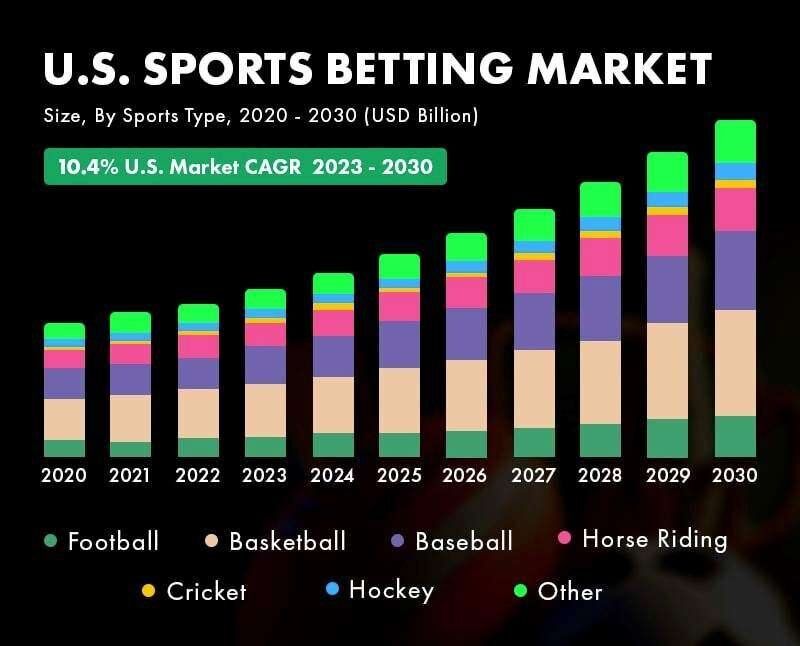 Benefits of Betting Applications
Accessibility
Sports betting app allows users to have access to a wide range of sports categories. They can explore all kinds of betting options and bet on their preferred one without any effort. This accessibility provides users with a broader range of choices and opportunities for betting.
Real-time Updates
Apps can offer real-time updates on ups and downs, events, odds, etc. With this users will have a record of their performance and will also notify them with the latest developments. Real-time updates increase the excitement and engagement of users during live events
Convenience
Betting apps provide a convenient platform to users where they can easily access all the features and bet at any time and anywhere. Users can access the app from their mobile, tablet & desktop devices. This gives them the facility of betting in their comfort zone without visiting any physical location.
Live Streaming and In-Play Betting
Service in our app will allow customers to view live matches and bet accordingly. This enhances betting options as well as user experience. With this feature, customers will be able to bet and view live on the same platform.
Secure Transactions
The biggest question customers have is about their transaction process. The application will prioritize the security of user transactions and personal information. By displaying tie-ups with some of the renowned banks.
Essential Steps to Create a Sports Betting App
Define Objectives and Target Audience
Determine your targeted audience and clarify them your objectives and goals. Build your app in such a way that it covers features and functionality that customers would expect to be in the application.
Research and Planning
Understand the competition and legal requirements required to build the app. Conduct thorough market research. And develop an outline that outlines the app's architecture, design, features, and development timeline.
User Experience (UX) Design
Design user-friendly interfaces that merge with the targeted audience's needs and preferences. Create wireframes to visualize the app's user interface and user experience known as UI & UX
Backend Development
Hire an IOS developer or Android developer to build the backend structure of the application. Including server setup, database integration, user authentication, and interaction with external APIs for real-time odds and sports data.
Frontend Development
Hire the best front developer to build and develop components using appropriate programming languages and frameworks to provide the best interface & user experience to customers.
Integration of Betting Data
The application should have data feeds from reputed sports data providers only. It is necessary to get scores and other relevant information from trustable sources to maintain the security and privacy of users as well as owners.
Payment Gateway Integration
Include secured payment methods which easy, safe, and trustable for users to deposit and withdraw funds from their betting account. Implement appropriate encryption and security measures to protect financial transactions.
Quality Assurance
Check whether the application is free from bugs and deviations or not. If yes then solve it as fast as possible. This will give assurance to the users about their safety and will improve customers' experience with the app.
App Deployment
Once the app has undergone thorough testing and quality assurance, deploy it to the respective Apple and Android stores.
Post-Launch Monitoring and Updates
Monitor apps performance continuously and take feedback from customers and analyze it to identify any improvement. Notify customers for updates on a regular basis. To address any issues, add necessary changes and keep the app up to date.
Ongoing Maintenance and Support
Provide ongoing maintenance and support to the app addressing user queries, and technical issues and ensuring the app remains secure and up to date with the latest technology trends.
Cost to Build The Application
There are multiple factors that affect the price of the application such as. The complexity of the App, Platform, Design and User Interface, Development Hours, Third-Party Integrations, Backend Development and Infrastructure, maintenance, and future updates. And many more.
Hire a custom mobile app development company. They can provide you with the amount required for the building after doing an in-depth analysis. Building a betting app can cost you around $20,000 to $1,00,000 based on the additional feature and functions
Conclusion
The success of Sports betting Apps depends on various factors such as cost, and accessibility.
Convenience, Secure Transactions, Backend Development, Frontend Development, Integration of Betting Data, Monitoring and updates, Quality Assurance, and payment gateway integration.
All the factors should be carefully implemented for the guarantee of the success of the app. It is essential to consider the budget carefully because it creates a great impact on your project.
By investing in a well-designed and smoothly functioning sports betting app, you can provide users with an easy and secure platform to enjoy their favorite sports, place bets, and improve their overall betting experience.
Read more: 5 Significant Mistakes to Bypass Before Mobile App Development