Our computers may be full of storage and maybe even duplicate files. This is why we often look for Dropbox or other cloud storage spaces for expansion. But the worst case is that Dropbox is also filled with storage files, especially duplicate files and it can cause a lot of confusion and clutter. You may also be asked to pay extra money to buy storage space but wait, you can save yourself from this situation.
If you have a Dropbox duplicate remover in your computer system then you can recover wasted space and save extra money being spent. Understand why duplicate files are created in the Dropbox! Dropbox does not find out when any duplicate files are entering the premises. You don't get any notification when copies of files occur and the cloud space starts getting cluttered. This situation not only consumes gigabytes of space but also forces you to buy more space in the cloud storage.
Now if you don't want to buy more space and yet fetch the goodness, get yourself a good Dropbox duplicate finder to find and delete duplicate files. However, you can call yourself lucky after downloading Duplicate Files Fixer, coming from the home of a reputed brand.
How to Delete Duplicate Files from Dropbox?
Yes, you can clean the duplicate files manually from the system but that could be one hell of a task. Things can not only get complicated but the stress of removing duplicates also comes up due to over consumption of time and energy. So let's look at Duplicate Files Fixer and how it deletes the duplicate files from Dropbox easily.
To begin the process, download and install Duplicate Files Fixer on your computer. Now follow the steps below.
Step 1: Launch Duplicate Files Fixer on your computer. By default, the tool scans out the whole computer to make sure that no duplicate files are hidden.
Step 2: Go to the Download arrow beside Scan mode and click on it. Choose 'Scan Dropbox'
Step 3: You will be asked to sign in to your Dropbox account or other account to delete the duplicate files.
Step 4: Give the permission when asked by clicking 'Allow' and confirm the choice.
Step 5: In the next tab, you will receive a notification stating, 'Received verification code. You may close this window.' Now you can scan your Dropbox account for duplicate files.
Step 6: Once again, launch the Duplicate Files Fixer on your computer and click 'Add Folder'.
Step 7: From the next window, select the folder and click OK.
Step 8: click 'Scan for Duplicates' and wait till the scanning is complete to finish the action.
Step 9: Once done, preview the duplicates by double clicking every file.
Step 10: Here, you can also choose to find duplicates manually or simply choose the Automark feature to select and delete duplicate files.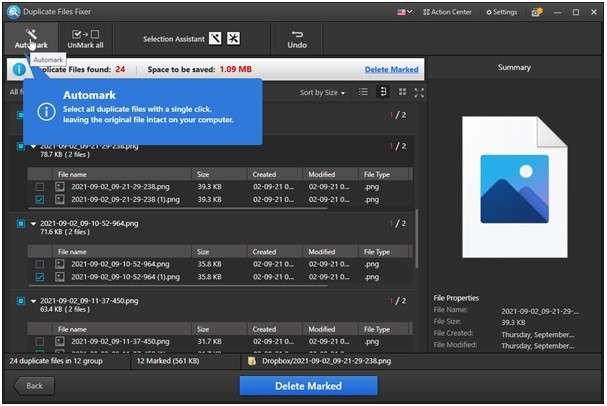 Step 11: When Dropbox duplicates are selected, click Delete Marked and then Yes to confirm it.
As soon as the process is finished, all your deleted files are moved to Dropbox's Deleted Files section. You will also be notified with a summary of deleted duplicate files here.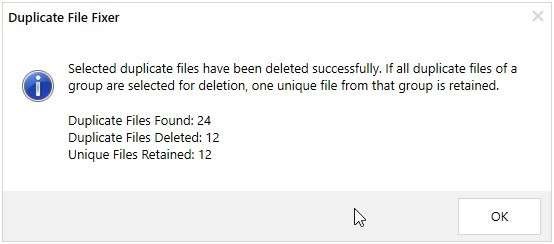 In case you feel that not only duplicates are detected, click on the Scan button again to detect the files.
This is sure that you can free up the space easily and save gigabytes of it. Moreover, the storage space becomes a lot more optimized and this is why it is also preferred by so many users all over the world.
What Other Features Are Available?
Allows you to exclude certain folders from getting scanned
Gives you a grouped result for easier data management
Supports a number of different file formats during detection of duplicate storage files
Very easy to use for a new user as well as experienced users
It compares data by content and results in accurate detection of duplicate files
Gives you a chance to preview scan results so that no wrong files can be detected and deleted.
Conclusion:
We hope that you have found out how to recover Dropbox storage with this Dropbox duplicate remover through the blog. Also, the steps mentioned above are good enough to explain the process and get rid of extra storage space. Duplicate Files Fixer is certainly a strong tool not only to find duplicate files in the system but also external storage devices as well as cloud services like Dropbox and Google Drive. Such features are very less common in the competitors and hence, highly recommended.
Have you tried deleting duplicate files from Dropbox using Duplicate Files Fixer yet? If so, share your views and suggestions with us in the comments section below. Also, share if you have other suggestions to share with us.
Read more: Ways to Transfer All Emails From One Gmail to Another