There was once a time when remote work was a luxury. It was often said that only a few lucky ones get this rare arrangement. But after 2020, it is safe to say that remote work saved us all. Remote work kept businesses – and people – afloat.
Well, the pandemic ultimately made a push for the future of remote work instead of a gentle shove that, many were expecting, would happen over time. In fact, a survey by Gartner, Inc. revealed that 74% business leaders are now considering moving some of their employees to remote work permanently, post-COVID 19.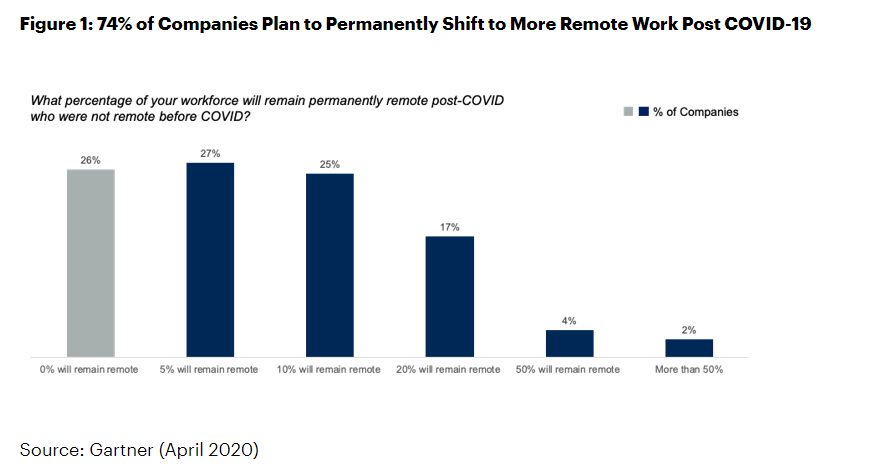 It is because some businesses have thrived and benefitted from this change, thanks to the switch from offline to online processes. In fact, Forbes has concluded that remote work is no longer a privilege – it is the norm. Completely remote teams are a reality now and Work from Home (WFH) is the new buzzword! This can be gauged by the fact that the Big Tech – both Twitter and Facebook – have told their employees that remote work could go on indefinitely.
So, with all said and done, as the ripple effect of the pandemic continues to be felt across the globe, what does the current and future of remote work look like?
Remote Work Trends continue to look promising!
Let us look at a few factors at why remote work is working in the first place!
How Effective Is Remote Work?
One major gripe many businesses tended to have was that they were wary of their remote employees getting distracted at home where employers couldn't keep a direct eye on their teams. In short, there were productivity concerns.
It's why many employers have avoided remote work and continued to have their employees brave peak hours. Things are changing with remote work trends, however. Here's how!
Work commute and Time: As per a survey by Airtasker, long commutes have caused at least 1 in 4 respondents to quit a job. But now, with remote work, employees "saved an annual average of $4,523 on fuel alone," said the same survey by Airtasker.
Flexible Work Hours and Office Space: Flexible work hours are an added bonus. One big trend has been very popular – coffee shops or co-working spaces are alternative options for workplaces, other than homes that is. It is also a possibility in the future that some may be able to travel the world while still being on the job.
It also means less office space. In September 2020, REI Co-op completed its sale of the Washington headquarters. That's quite a precedent! But that's not all. It is increasingly getting clearer that remote workers are more productive.
Productivity and Work-Life Balance: Remote employees are working 1.4 more days per month than in-house employees, which makes it roughly 17 additional workdays in a year. Compared to that, a mere 8% of remote workers found it tough to focus on their work, as opposed to the 6% of workers in offices. This is backed by another survey in August 2020 by Mercer, where 90% of employers affirmed that remote work hasn't hurt productivity.
However, there is one criticism from the employees' side too – higher levels of stress and difficulty in work-life balance. Maybe new policies could help with that.
New Work Policies and New Challenges: As per a survey by Gartner, 81% of CFOs told Gartner that they are planning to "exceed their contractual obligations to hourly workers during coronavirus disruption". Expanding sick policies, adjusting work schedules, offering childcare needs, remote working equipment, among others are some of the new policies employees are looking at. Many may see it as "ethical" but, as mentioned above, this has more reasons than one.
Technology and Expansion: Firstly, remote work is no longer limited to business processes like customer services alone. It has now explanted to a multitude of sectors including content creation, human resources, software development, and architecture besides others– all thanks to the ever-evolving technology. Video conferencing, direct instant messaging, live file sharing, automation and AI etc. have definitely helped.
The future definitely looks hopeful.
Here are some trends that are helping make remote work smarter and continue to be the catalyst for future trends remote work:
Cloud Technology: Less office space also means less physical storage space for data, web services and applications. Cloud Technology is now an enabler when it comes to storing data; remote storage devices are preferred. The most commonly used cloud-based services are Software as a Service (SaaS), Platform as a Service (PaaS) and Infrastructure as a Service (IaaS).
Real-Time Communication and Collaboration Tools: Faster, more secure technology allows instant communication that incorporates emails, direct chats, voice calling, and video calls, image and document sharing. Some of these popular tools or applications are MS Teams, Facebook Workplace, Zoom and Google Hangouts. Wireless presentation systems like Google Chromecast Ultra and Barco ClickShare are also promising.
Also, team collaboration has evolved exponentially as businesses scrabbled to move their work online. Screen sharing applications, real-time document collaboration and shared calendars have made the work flow easier.
Artificial Intelligence and Automation: AI and robots have now work alongside humans. Manufacturing, logistics, supplies, delivery through drones, chat bots, self-driving cars, and other such automations and AI have completely changed workplaces and their work flow.
It is not just industries, the health and financial sectors too are making use of these technologies in various processes such as credit history management, banking, risk management, health monitoring and so on. Airports, train systems, hotels and police stations now are increasingly looking at contactless automated kiosks or robots for check-ins and check-outs.
Options and Opportunities
Apart from technology, as mentioned above, the future of remote work could see changes in the in-house processes too. However, despite the changes being considered, the fact remains that the transitional processes are yet to be fully formed.
Take hybrid work model, for instance. Specific in-house attendance and meetings could be a thing. Performance reviews could be an ongoing process in future rather than annual meet. Cybersecurity will definitely take the center stage as data storage and sharing become part of the daily workflow. Thus, IT systems and infrastructure could see more investments and hence more opportunities in the sector. There are certainly many more possibilities.
Now, all this had been in the pipeline for years for businesses around the world. It is just that remote work is no longer an option anymore. It became a necessity and came with benefits!
Also, remote work has always worked all these years really.
Outsourcing and offshoring rely on remote work. You can hire virtual employees in India to make use of these new learning and get the best out of outsourcing business models.
Also read about: Distant Learning: How Online Education Streamlines the Funnel?