Today, in this blog we will discuss the simple methods to remove duplicate email messages in Outlook. If you are using Outlook, you are also facing a similar problem. So this blog will help you.
As we know, Outlook is a trustworthy, free, and open-source email client. Most of the common users or businesses use Outlook as their main email client to send and receive emails.
Sometimes, users get unnecessary emails which consume the capacity of the inbox or occupy too much space, while performance problems also occur when the mailbox is filled with too many emails.
Now we will discuss the reason to remove duplicate email messages in Outlook.
The Reason Behind Duplicate Outlook Emails
There are many reasons for receiving similar emails, some are shown below.
Searching for an email not working: Outlook displays the entire message list when you try to search via the search option and takes much longer than desired.
Having a larger mailbox: As you receive duplicate emails with attachments in Outlook, the size of the mailbox increases. It is important to note that if the mailbox gets too large, performance declines.
Taking Up More Storage: As duplicate items increase in number, they will consume more space on the hard drive and use more CPU resources. This can also result in data corruption.
How to Remove Duplicate Email Messages in Outlook?
There are multiple ways to remove duplicate emails in Outlook. You can use any of them.
1. Duplicate emails in Outlook can be removed by checking the account settings
Start Microsoft Outlook
Go to file option
Then click on Info or Account Settings.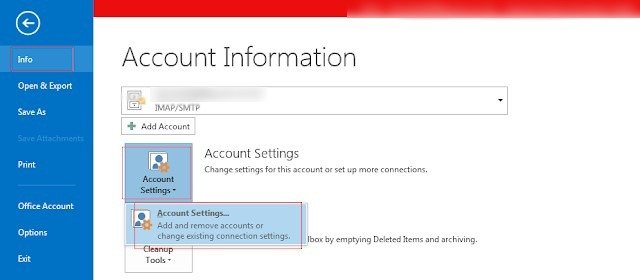 Now click on the Email tab
Next, click on the Remove option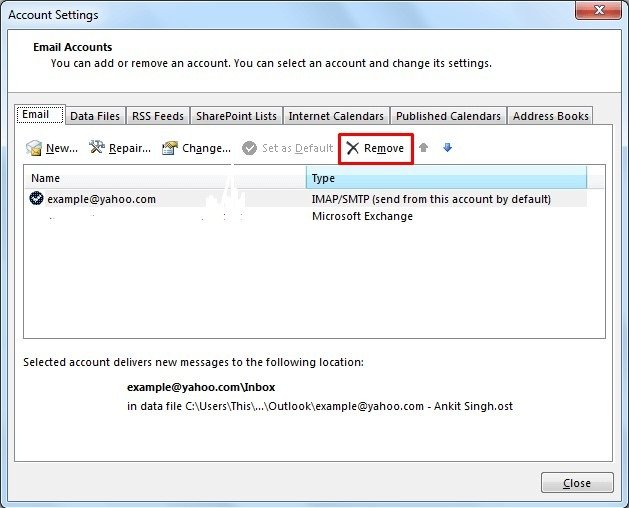 At last press the Close button.
2. Using Outlook's import/export functions, remove duplicate emails
Open MS Outlook and select the file tab
Go to the open & export tab
Then choose the import/export option.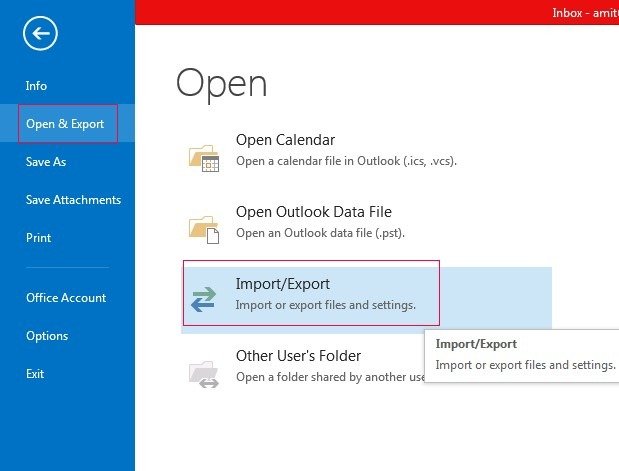 Now the import-export window is appear
Next, you can select the import from another file. And click on the Next button
Now select the Outlook data file (.pst) and click the next button
Next, in the import Outlook data file window click the browse option and select the .pst file.
Next check the Do not import duplicates option and select the next option.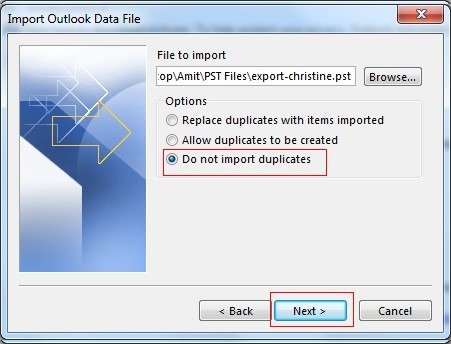 At last, select the Outlook data file and click on the finish button.
3. Remove Duplicate Emails from Outlook Using the Clean Up Tool
Open MS Outlook
Next, on the ribbon bar tab click on the cleanup tool option and expand all the options.
Now three options are shown i.e. Clean up a conversation, Clean up folder, Clean up folder & subfolders
Then you can select the cleanup folder & subfolder
Now, a cleanup folder dialog box appears. Now click on the clean-up folder option.
Here you can choose the setting option for selecting the deleted items location.
Next, the Outlook options window is displayed then add the PST file on the browse button.
Now select the Folder window then select Deleted items and press OK.
At last hit on the Clean Up folder tab to delete duplicate emails from Outlook.
Drawbacks of Manual Methods
Each manual method is suitable for small PST files with a hundred emails. The following limitations may occur in Outlook when you have a lot of emails:-
There is no way to estimate how many duplicates there are in the Outlook mailbox.
It generates an error message "No messages were cleaned up.". Trash will only be moved to the trash if your clean-up settings are met."
A Professional Method to Remove Duplicate Email Messages in Outlook
If you don't want to go through complicated manual processes, you must use DRS Outlook Duplicate Remover Tool to easily remove duplicate emails. This is one of the reliable tools for removing duplicate emails. You can easily delete Outlook items such as emails, tasks, contacts, calendars, etc. By using this software, you will save time and effort. It also provides a mail filter option. It supports any version of the PST OST file and also supports any version of Outlook. Use this tool with this free demo trial version.
Conclusion
As we know, the manual method is difficult for non-technical users so here we have mentioned an automatic tool that you can use. We have described three manual methods. I hope you will be able to successfully remove duplicate emails from Outlook after reading this blog.