A massage chair can be the perfect way to relax after a long day. Sitting in a massage chair can help work out the kinks and knots in your back and neck, allowing you to feel more relaxed and rejuvenated. Many massage chairs also have features that allow you to customize the massage to get the most out of your relaxation time. If you work from home, a massage chair can be a great way to relax after a long day of work.
Types of massage chairs
There are many different types of massage chairs available on the market. Some chairs are designed for full-body massages, while others focus on specific areas such as the neck and shoulders.
When shopping for a massage chair, it's important to consider your needs and preferences. Do you want a chair that offers a variety of massage techniques or one that replicates the sensation of a human masseuse?
Another important factor to consider is price. Massage chairs can range from a few hundred dollars to several thousand dollars.
One popular type of massage chair is the Osaki Maestro LE. This chair offers a variety of massage techniques, including Shiatsu, Swedish, and Rolling. It also has an automatic body scan feature that adjusts the massage settings according to your size and shape.
The Osaki Maestro also includes a built-in massage table, allowing a full body massage. The chair has several other features, such as an auto-recline and anti-fatigue adjustment designed to keep you comfortable while you're seated.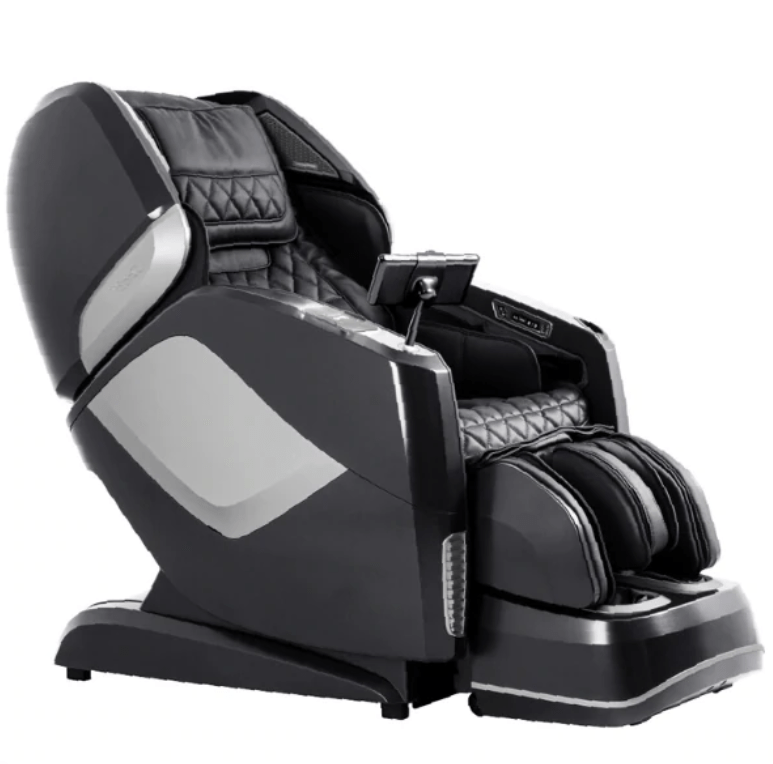 Features of a good massage chair
Massage chairs have become a popular way to relax and relieve tension in the muscles. When shopping, there are some key features. 
One feature is that the chair should have different intensity levels. This will allow you to adjust the massage to your desired pressure level. Additionally, the chair should have a range of massage techniques, such as tapping, kneading, and rolling. This will provide a more customized massage experience.
Another important feature is that the chair should adjust to fit your body size. The back and seat should be adjustable to recline or sit up comfortably. The footrest should also be adjustable to be raised or lowered to fit your height.
Daiwa Supreme Hybrid massage chair uses a system that allows users to adjust the chair to fit their body size. This allows the chair to fit with an individual's height and weight. The chair can be adjusted between two different zero-gravity positions, from lying back to lying down.
When looking for a massage chair, it is important to consider the price. Some chairs are more expensive than others. You need to find one that is affordable for you.
The best way to find an affordable massage chair is to shop online. You can compare prices and find the best deal.
How to use a massage chair

If you're looking for a way to improve your overall health and wellbeing, look no further than the Infinity Genesis massage chair. This incredible piece of equipment can provide you with several health benefits, from reducing stress levels to improving circulation. But how do you get the most out of your massage chair? Here are some tips:
1. Sit in a comfortable position. It's important to be as relaxed as possible when using a massage chair, so make sure you're sitting in a comfortable position. Recline the chair back slightly and place your feet on the footrest if possible.
2. Adjust the intensity of the massage. The intensity of the massage can be adjusted to suit your preferences. If you want a more intense massage, increase the setting on the remote control.
3. Use the scan mode feature. The scan mode feature will help you pinpoint the exact area of your body that needs the most attention.
4. Remember not to overdo it. Use the massage chair at a reasonable pace. You should never force your body to relax if you don't feel like it, as this will only lead to injury.
5. Enjoy the experience. Enjoy what you are doing and take your time with each session.
Benefits of using a massage chair
Massage chairs offer a variety of physical and mental benefits. Some physical benefits include improved circulation, reduced inflammation, and relief from pain. Mental benefits include reduced stress levels and improved moods. Massage chairs can target specific areas or provide a full-body massage. They are a great way to relax after a long day or help relieve tension, headaches, or other pain symptoms. Massage chairs are available in various sizes and prices, making them affordable for most people. They can be used at home or work, making them convenient.
Conclusion
While a massage chair may seem like a large purchase, it can be a great investment for your home. You will enjoy the benefits of massage therapy, but you'll also have a comfortable place to sit and relax. In addition, massage chairs are often more affordable than traditional massage therapy sessions.
Before making your final decision, it's important to consider your needs and budget. There are a variety of massage chairs available on the market, so be sure to do your research and find the best one for you.
Read more: 5 Reasons Why Massage Chairs Can Save You